You have not lived enough if you have not done aerial yoga in your life at least for once. It's so much fun! Even if you're not a yogi, this is something that you should try, if you are feeling stressed, depressed or willing to take on any adventure. With yoga being increasingly popular as a fitness activity, more and more yoga enthusiasts are trying to innovate yoga just so it doesn't become boring. Stylishly combining precise movements and body postures with a better focus on spiritual awareness, yoga has a lot of psychological along with physical benefits. Now, about aerial yoga, or you may also call it flying yoga, it has gone to a whole new level. You don't need any shoes, neither do you need any skills, there are different types of hammock-like straps available, that allows you to swing around a specific area. The strap is also called "trapeze". That's what secures your body from the ceiling to help you flow through the room adequately. After brief research, we have come to a conclusion with 10 best Yoga Swings in the market today. Here are those Yoga Swings List:
Our first hammock in the list has taken the market by storm; it's none other than the Wellsem Pilates Aerial Yoga Hammock. With able to hold about 2,000 pounds, far more than any other brands, this is the reason why this hammock is particularly our favorite. You can fly and swing without having to worry about anything.
The hammock is made of 100% nylon 40-Denier Tricot with stretch, it provides enough comfort for the body and skin. Needless to say, this is an awesome hammock for beginners. While other hammocks are a bit rigid and inflexible, this product is nothing like that.
The 'U' shaped hammock allows you to go for any moves and have fun with it, not having to worry about its sturdiness. In tune with that, it also supports the hips and backs of the yogi without any difficulty. Reverse postures and mid-air swinging become so much better when done using the Wellsem Aerial Yoga Hammock.
Also, don't hesitate to use it for other workouts too. The hammock is something you can play around, and it will support you too.
If you're planning on setting this up at your home, chances are you are looking for your favorite color. With a variety of 12 different colours being available, we don't think you would ever have trouble finding what you are looking for. Our personal favorite is lavender and lacks blue!
The hammock does not come pre-knotted. The kit comes with a knot tying guide, which we believe will help you in setting up if you follow the step-by-step instructions provided.
Made from quality materials, the Wellsem Aerial Yoga Hammock is something that is used by most yoga enthusiasts in their yoga studio. So, you can never go wrong with this one. Highly recommended!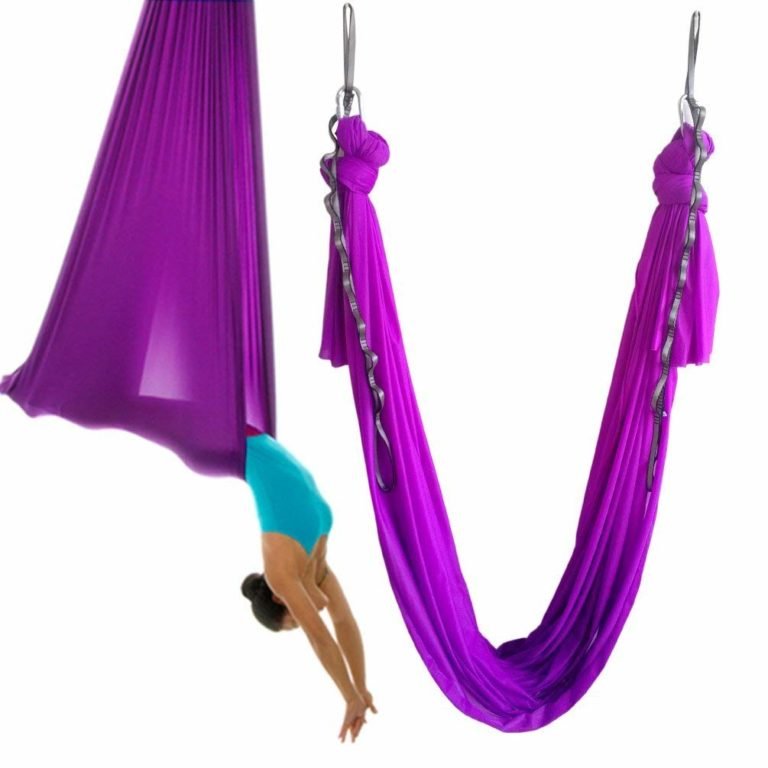 Pros:
Improved flexibility
Sturdy
The materials feel comfortable to the skin and body
Highly stretchable
Cons:
Expensive compared to other brands
Incorporate sport into your yoga with this AGPtEK Aerial Yoga Hammock and change the game forever. Hanging this long piece of cloth in one of the empty rooms in your house could be a blessing for your family.
The fabric is just out of the world; soft polyester Tafetta that will not suffer bruise and pain as the stiff fabrics do. This is particularly good for those who are suffering from back pain or neck pain and still wants to go on practicing yoga, you need a really nice fabric.
Plus, the useful and powerful inversion swing improves your core strength and flexibility, further relieving compressed spinal disk. Not only that, but this aerial yoga inversion therapy also makes a great recreational activity.
We are just so satisfied with the fabulously stretchable and lengthy material that it comes with. It's like as if you can hang on the hammock whenever you want and release all your stress and tension that you have gone through all day.
And you don't need to worry about setting it up on the ceiling. Even a newbie can do it like a pro! On top of that, if you have to take it off too often, you can do that also. Compact it into a small pouch and take it with you wherever you go. Again, it up outdoors and enjoy the view as you exercise. Doesn't that make it so simplified?
The hammock is able to take a load of 661 pounds without any issues. Although it may sound a bit too less compared to the Wellsem, in reality, it's actually a lot! What matters is that it's still plenty sturdy for anybody who practices yoga regularly.
So, what you are searching for is right here with all that you will ever need.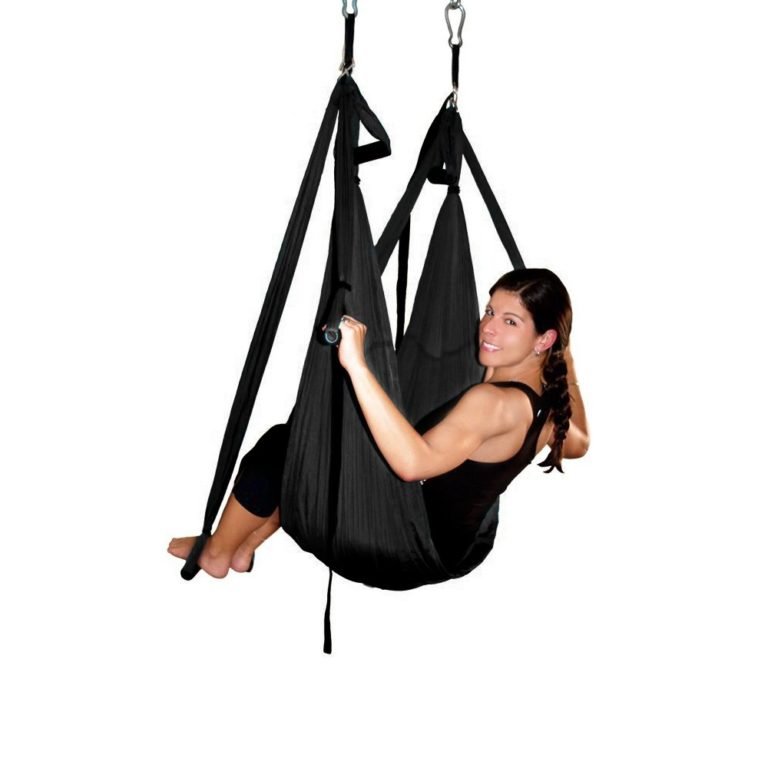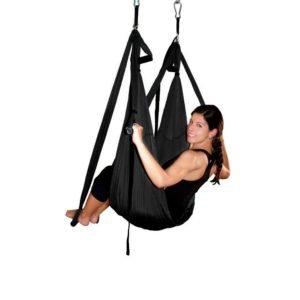 Pros:
Easy to setup
High-quality soft polyester Tafetta material
Multifunctional
Perfect for both indoors and outdoors
Cons:
Doesn't come with a setup guide
Another one of those inversion slings, specially built for inversion therapy. Believe it or not, but they are the most desired type of slings in the market at the moment. Why? That's because when you are out there looking for the best aerial yoga swing, they are considered to the sturdiest and durable.
Now, here we have an Inversion Swing by Gravotonics, which is all that about. It comes with all the necessary accessories that you need to build your swing. Moreover, it doesn't even take a minute for this to be installed at a full routine. Just tie the knot, and that's it.
With so many other slings out there, we have chosen this one, mainly because this yoga prop turns out to be a safer way to strengthen your postures. Giving you the impression of a hammock, it provides enough support to your pelvis just so you can move about horizontally, vertically and upside down.
This inversion sling is ideal for trying out any yoga posture, without the fear of anything. What's so unique about this sling is that it comes with three arms and three leg handles, all at different heights. That's awesome because it gives you ample freedom to do some more exercise.
Outdoors or indoors, this is perhaps the friendliest sling you will ever come across. The type of materials it is made from, high strength parachute fabric, it will provide you with utmost comfort under summer temperature.
Oh, and did we mention that it comes with a DVD of all the yoga postures that you can exercise with the sling? Yes, it does! The DVD is more specifically directed towards those who are looking to heal their back-pain through yoga and aerial yoga.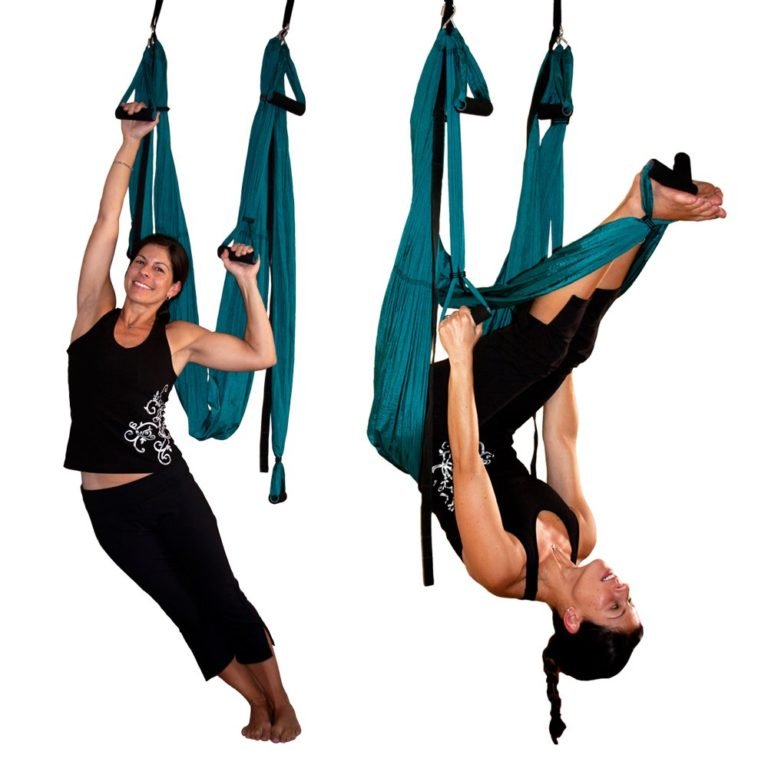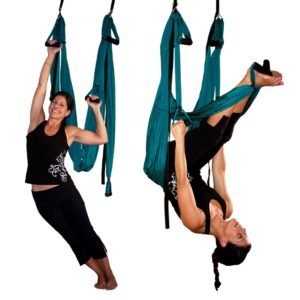 Pros:
High-quality parachute fabric
Easy to assemble
Sic other grip handles
Provides great support and flexibility
Cons:
If you're looking for soft fabric materials, this is not the one for you as the parachute fabric is firmer than others
If you are suffering from stress or depression and want to cure it with regular practices of aerial yoga, then this is your thing! It's excellent equipment for anyone who's looking for a beautiful, carefree aerial yoga experience.
In order to make your yoga experience better for your body, spirit and mind, this hammock is perfect. You know there are no slings attached to it, which gives you the freedom to practice a number of actions.
Made from 40-Denier low stretch nylon, this is anti-gravity hammock the best for flying. The simplicity in its design makes the hammock so much more comfortable, multifunctional and easy to clean.
If you are a fan of dive head first postures, you will be impressed by how the fabric allows you to wrap yourself in the sling from head to toe completely. The hammock provides 100% safety, security and stability while you cradle to get yourself used to the amiability of it.
The Dasking Premium Aerial Yoga Hammock does offer a lot of flexibility and relaxation when you want to experience new yoga positions. Of course, you can say that most yoga hammocks are designed to be used by people with all body types. Considering your level of comfort, some hammocks may not have been designed in such a way.
However, this is one continuous piece. The hammock has been designed keeping superiority in mind with high-quality swing. Being able to take a load of 2000 pounds, we guess it can make up to be great equipment if you are looking forward to training your child along with you in the same hammock.
The terrific sturdiness provides you with this security. All in all, it makes up to be a useful yoga kit that you will truly admire.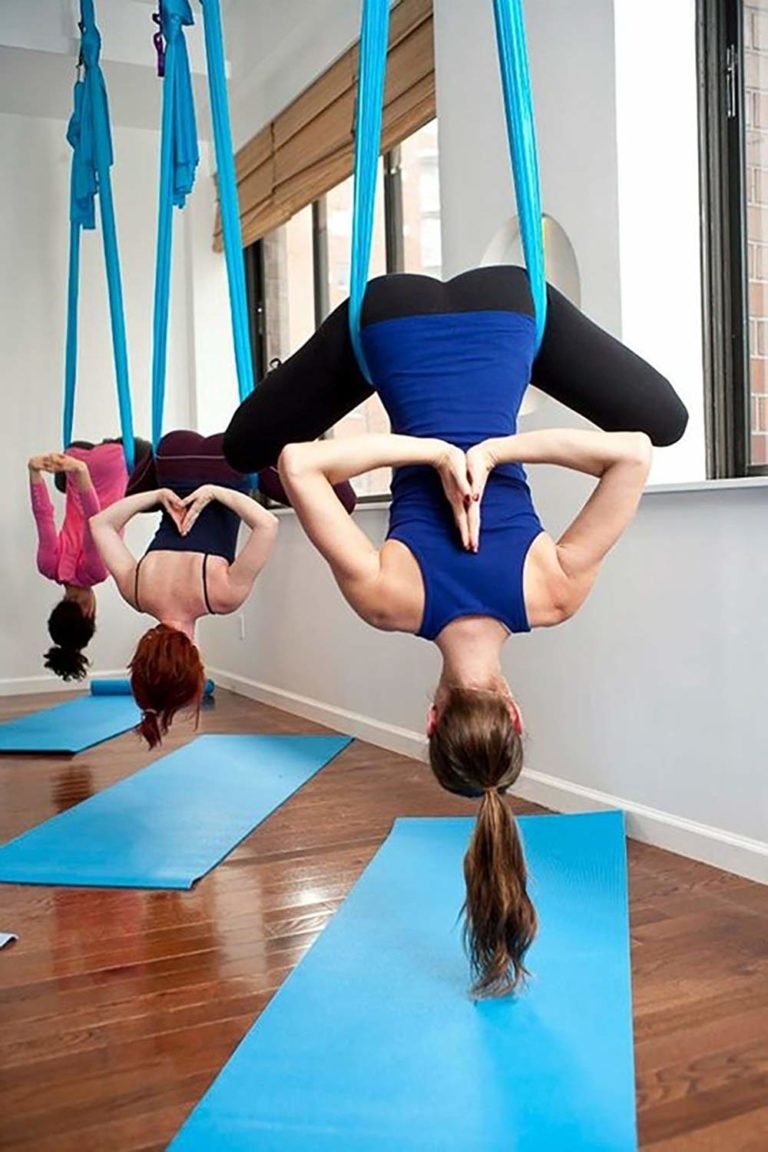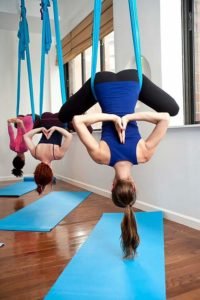 Pros:
High strength parachute fabric
Able to take load up to 2000 pounds
Simple to assemble
Easy to wash and maintain
Cons:
Might be short for people with long limbs
5.

No products found.
The next one to make it to our list of best yoga swings is this very perfect and well-rated Aerial Yoga Hammock by Aum Active. This yoga hammock has taken the market by storm because of what it is capable of.
The material of this one is of silk, which by the way, is very durable and cool to touch regularly. You can sit and wrap yourself in this hammock because of the generous width that it comes with. All of this makes this hammock great for literally anyone; beginners, dancers, advanced aerial Pilates and yoga practitioners.
And it is mention worthy that the hammock is of best value. That's because you will probably never find another one of those silk fabric yoga hammocks that comes with all the necessary tools needed to hang it. Moreover, all of that at such a reasonable price!
For all those of you who are looking for a pre-knotted yoga hammock, this one's for you! Buy it and get started with your yoga immediately. In addition to that, the hammock comes with 6 loops on each extension that allows you to adjust the length accordingly. You can loop it around a tree branch or an open beam, considering whichever is suitable for you.
Although the mounting rig does not come with it, so you need to make an additional purchase if you think you need it. The Aum Active Yoga Hammock is a high gear for you to refresh yourself from a stressful week at work!
On a different note, if you are looking to buy a gift for someone's who's into health consciousness, this could be an excellent gift for them to kickstart their yoga journey. Trust us, they will be thankful to you forever!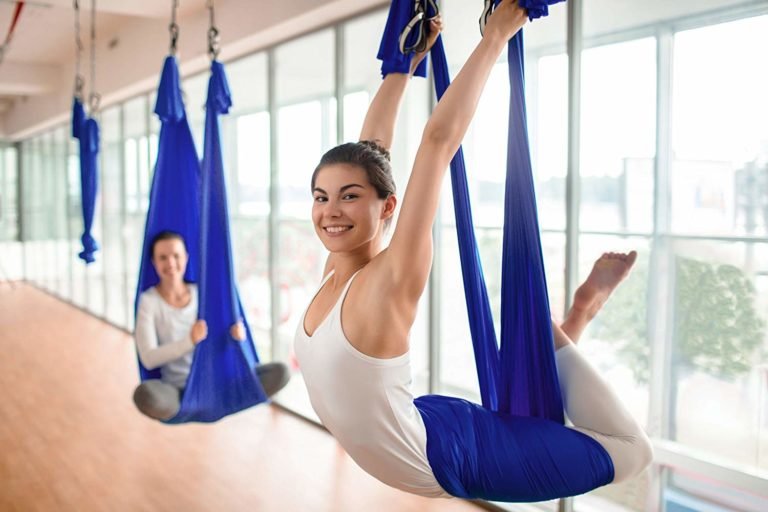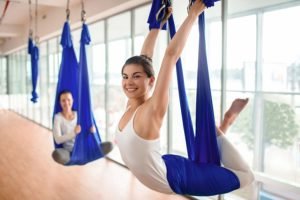 Pros:
Easy to use
High-quality silk materials make you feel comfortable to practice yoga for hours
Safe and versatile
Comes pre-knotted
Cons:
This product has not reported any negative feedback from potential consumers
No products found.
The best part of the F Life Aerial Yoga Hammock is that it comes with a carrying bag, the bag which is extremely durable. We have formed a little opinion of ourselves here, and that is, most consumers will find the bag very useful that comes with the hammock. It's very versatile.
Now the hammock is made from finish silk, providing 100% non-slip texture and an excellent grip for your aerial yoga practice. Again, if you are a beginner, this could be your thing! It can take over 2000 pounds of load for which you can stay rest assured that nothing evil will happen to you.
It may seem like tough to start off with this hammock, but once you hang it on your ceiling and get on in the adventure, you're going to be fine!
This easy-to-fix hammock makes it so much easier for you to assemble it anywhere and do as many tricks as you want. The fabric is incredibly soft and gentle. The 10 meters silk that it is made out of allows you to spread over it quickly. Plus, there's no risk for you to slip through the cloth because it sure has a super grip.
However, do take note that everything gets better with practice. And although the aerial hammock is very easy to set up, but it does not come with mounting accessories, so do make your purchase if you need them.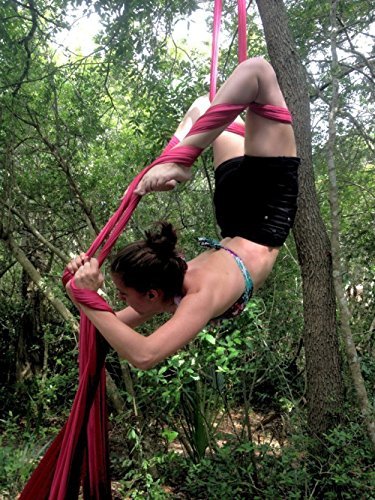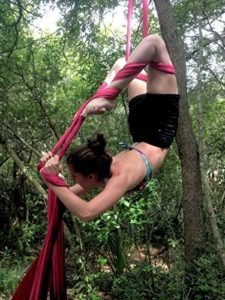 Pros:
This hammock is able to take a load of more than 2000 pounds
A silk fabric with extreme grip
Easy to climb
Economical and safe
Cons:
Does not come with the mounting ring
CO-Z has been manufacturing out some of the best yoga accessories to boost your workout. The company may not be well-known, but oh, not all great things need publicity and advertising.
The CO-Z Aerial Yoga Inversion Sling is the swing that is perfect to begin your yoga journey with. The sturdy polyester taffeta material is definitely breathable with the ability to support more than 400 pounds of load. The excellent material also promises no friction and extreme reliability without compromising on the comforts.
The CO-Z aerial yoga swing is not just for yoga, it's also a full-body exercising accessory. You can practice splits, backbends, inversions and so on. There is something magical about this yoga swing that exercising with it relieves back, neck and joint pains.
One good thing about this hammock is its thickened and upholstered foam handles that provide a comfortable hand grip with excellent anti-skid performance. Therefore, this avoids hand sweat and thus alleviates any sort of hand fatigue that you may experience. Other than that, the hand straps provide optimal safety.
This natural yoga swing is very accessible. You can make it to the point of hanging it in your doorframe effortlessly. Or if you're looking forward to outdoor aerial yoga sessions, tie it to a tree branch and get started with your peaceful moments.
Overall, this is a great professional trainer not just for you, but your entire family, if everyone is considering aerial yoga. It helps in developing core strength, instant traction on your spine, improving your upper body functions and while body strength and as a result the professional training workout that your family needs.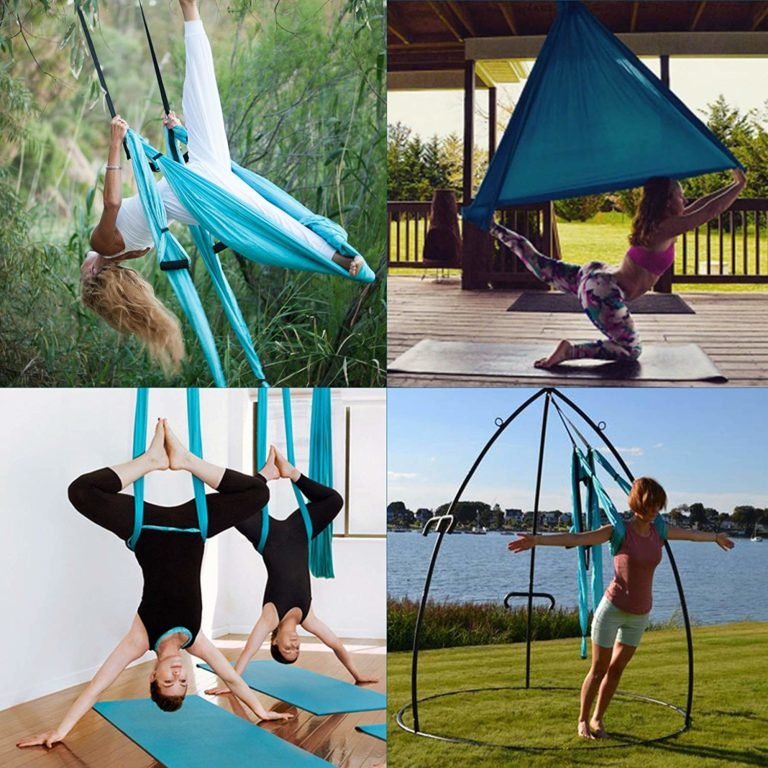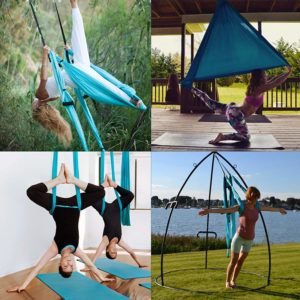 Pros:
Soft and sturdy
Portable and compact
Excellent anti-skid performance
Instant traction on spine
Cons:
Mounting accessories are not included; you will need to make a separate purchase if necessary
This Firetoy Professional Aerial Yoga hammock is a fantastic exercising tool that has taken the industry by storm. Favoured by modern yogis, this yoga swing adds support and grants you to take on complicated yoga moves with the possibility to try something new.
Since you already know how great aerial yoga hammocks are for the development of core strength, flexibility and decompressing the spine, the Firetoy Professional Aerial Yoga hammock is no exception. In fact, it's more than that.
With this Firetoy Professional Aerial Yoga hammock, you can go fly right out of the box. What we mean by this is that it has been tested to be completely safe and secured just so you can relax during your yoga time.
You will be amazed at how the 2.8-meter width of the hammock allows you to lay on it for a nice meditation session completely. We are sure you have always wanted to feel weightless by lying on the middle of an empty room, feeling carefree. Of course, this is possible with the Firetoy Professional Aerial Yoga hammock.
Moreover, what makes this hammock safer for lying down is the light stretch that it provides. Yes, the hammock stretches about 10% in length, which allows for better support throughout your workout. Therefore, even a single movement will be very comfortable.
And you need not to worry about the weight limit as it can comfortably accommodate about 379 pounds, which is quite a lot!
The Firetoy Professional Aerial Yoga hammock is tested and then packaged up for sale. Hence, this makes the products from the manufacturer to be very trustworthy. So, if it's your first time getting a yoga swing, undoubtedly you can get this!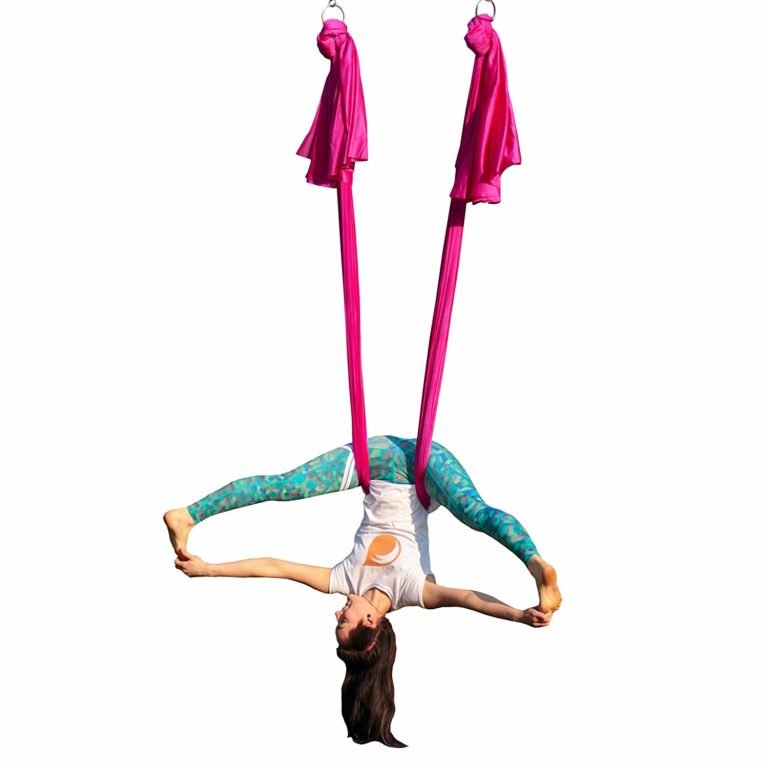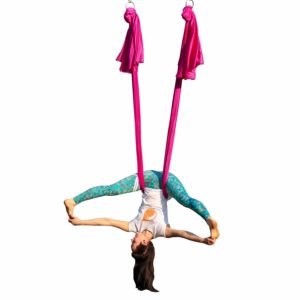 Pros:
Excellent quality silk fabric
Professional quality yoga swing
Comes with added support
Stretchable material makes it easier to move through the swing
Cons:
This product has not received any negative feedback from potential consumers
This hammock is one of a kind. As the name suggests, Healthy Model Life Silk Aerial Yoga Swing is targeted to provide you with a life that is all about staying physically fit. Have you never tried yoga? Fret not! Now even you can relax and meditate as well as enjoy the benefits of inversion therapy with just a swing!
No matter how lazy or inactive you are, with this hammock by your side, you can never just sit. The superior quality soft materials that it is made out of is so stretchy and swingy, and you will surely feel like flying at least once a day. Unlike parachute silk materials, this stretchy material eases the yoga transitions from pose to pose.
Speaking of real aerial yoga, it shouldn't have any handles or hand grips. It should be completely carefree. All you need to do is lie down on the cloth and spread your swings for flying. And if necessary, get proper instructions from an experienced yogi.
Best of all, this Healthy Model Life Silk Aerial Yoga Swing comes with a year of warranty after you have bought it. If there's any fault in the material, return it and get a new one immediately.
The manufacturer believes that you deserve the best and that you should always get what you pay for.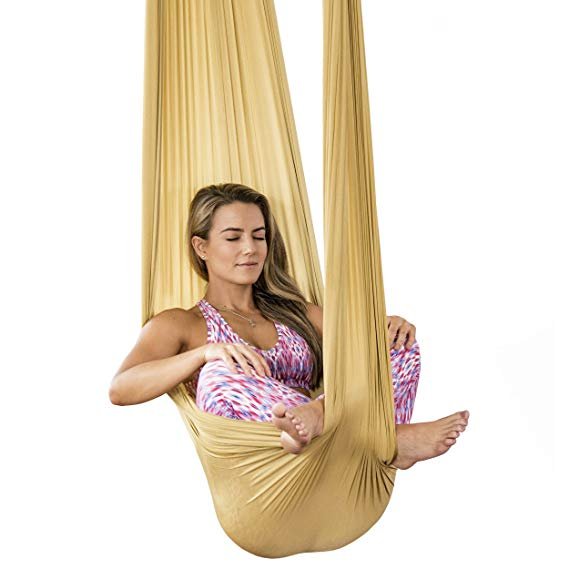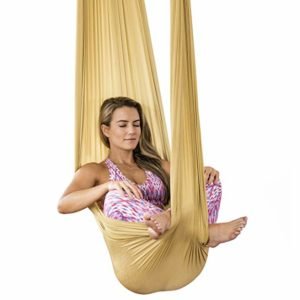 Pros:
Soft and silky materials allow you to transit from pose to pose very easily
The hammock allows for carefree exercise poses as it doesn't come with handles or hand grips
Promotes a healthy lifestyle
Comes as a complete kit along with any hardware materials that are needed to hang the hammock
Cons:
Some may complain that the fabric is not wide enough
The last one to make it to our list of best yoga swings is the YogaBody Yoga Trapeze. Although we have listed this as the last one in our list, this is yet the winner. Here's why we think that this trapeze will win over your heart, too:
Take your yoga practice to another level by installing this yoga trapeze from YogaBody at the ease of your home. It's typically so easy! Set it up in under minutes by viewing the video on YouTube, and you will do just fine.
This yoga trapeze has proved to be an amazing remedy for those suffering from back pain. This inversion therapy is particularly amazing because of the hand grip that it comes with. Take on that Superman poses while you are at it and all your pain will vanish.
Furthermore, this trapeze allows you to practice inverted backbends for longer hours without feeling fatigue. So, now you can hold up to your favorite position longer than usual and improve your backbends and flexes.
There are no words to describe the pro-grade quality of materials that it is made out of. Although it's the parachute fabric, this is more of the quality that you will find in the yoga studios. All in all, it can take a load of almost 600 pounds without any issues.
100% quality assured yoga swing with 10 years guarantee, this product is indeed the sturdiest of all. It will even last you a lifetime.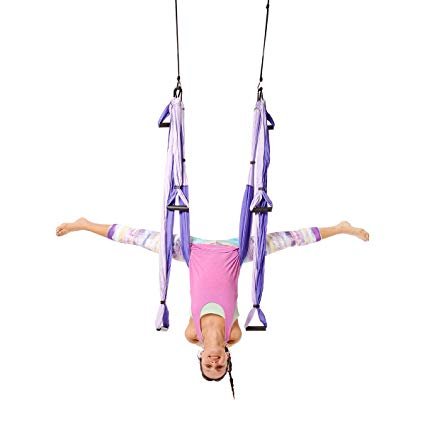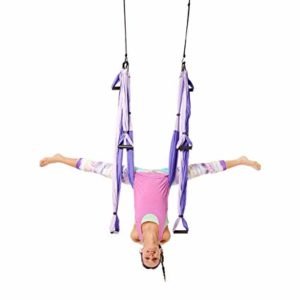 Pros:
High tractions
Hand grips make it easier to grip
10 years warranty
The swing allows for a variety of moves
Cons:
The package does not come with the basic set of instalments like hook and plates
Why Do You Need a Yoga Swing?
This brings us back to the question of why you should try aerial yoga? With millions of reasons that come with, here are a few reasons as to why you should try aerial yoga and thus why you need a yoga swing.
Subconsciously, most of you suffer from back pain. It's almost a complaint from everyone. And why not? We sit through a good 14 hours a day; driving, sitting at our work desk, lifting incorrectly, stress, poor mattress and so on.
This causes our muscles to become weak and uncomfortable. Although you might not have the time and money to go through regular spa sessions, but you can certainly adapt aerial yoga, aka inversion therapy.
Inversion therapy has been there for many many years, but with a modern touch, the yoga swings have been introduced. It's not bad after all. Hanging upside down after a hectic day at work could actually help you relax every muscle in your body. Without a yoga swing, it might be a little difficult, and so, the yoga swing makes your life so much easier.
A yoga swing is an amazing tool that helps you open your heart, stretch the front side of your body and access backbend that may not be possible without a tool. You must be thinking that – how the hell am I going to get into the swing?
Simply put, the trapeze is effortless. Just hop on it, and you will find yourself in a passive posture. Make yourself feel comfortable, and you will be able to relax, open and make space for yourself. Open yourself to the beautiful heart of yours.
Who doesn't love having flat abs? We do! Adding aerial yoga to your routine will definitely add some fun to core strengthening exercises. All this while, it had been boring, the yoga swing is what is going to make it something that you will look forward to.
Breathe freely and focus on tightening your transverse muscle. This is more likely to solve a lot of your back and neck problems too.
If you had trouble stretching your heart out all this while, the yoga trapeze is something that will help you get rid of this problem. That's because the trapeze is designed in such a way that it will exert your body into stretching itself. You will notice a lot of changes in your body once you begin aerial yoga with a swing.
Your Yoga Swing Buying Guide
Now that you have read 10 of our favourite yoga swings, it's time that you ask yourself about what type of a yoga swing you want for yourself. Considering that, here are some factors that we think are important to make the right purchasing choice. But before that, answer some of these questions and it will simplify your decision.
What will you use the yoga swing for?
Is inversion therapy important to you? Do you have back pain? Neck pain? Are you looking to increase your flexibility? Do you want to extend your yoga practice for long hours and get into the deeper pose?
If they are all your real reasons for looking for a yoga swing, we would suggest you make a list. After that, if you look at the features and benefits of the yoga swings, you will see what some of those yoga swings have in store for you.
Luckily, if all the reasons match up, you have found your winner!
If you are looking for a yoga swing for yourself as well as your child, chances are you need something of which you can adjust the height. Although most of the yoga swings are adjustable, some of them are not. The seat of the yoga swing may also differ from their brand.
For instance, a petite person will not be comfortable in a swing that is specially designed for a bigger person. The swings come with a specific body size so choose well so that you can fit in it well.
There's a maximum capacity of how much the yoga swing can accommodate. For some of the swings come with a capacity of 2000 pounds, while others are only about 600 pounds or less. If you think that you need something that should be able to take in more load, then choose the one with higher load capacity.
However, if you choose one that is not rated to carry your weight, chances are you will damage the mounting area or even worse, you may end up wounding yourself.
Not all of you would need this, but for those who do are surely reading this.
If you don't have enough room in your house for aerial yoga, you might want to take it down when it's not in use and put it back up when you want to use it. In that case, portability becomes an issue, and you might be looking for one that comes with this facility.
Next, if you want to take your yoga swing outdoors to the gym or somewhere, where you can enjoy the view and cool breeze, you will need to consider setting up a portable one. And on top of that, you will also need to look for the one that comes with a carrying case.
Yoga swings are like a lifetime investment. You need to find a brand that can get a hold of their product when there's an issue. Therefore, you need to look for something that offers some guarantee. More importantly, will you get a refund if you are not satisfied with the product? Will the brand replace the entire product if it wears down or just replaces the broken part of the product? It is extremely important that you do your research before finally making your purchase.
Frequently Asked Questions about Yoga swings!
Q1: Where should I possibly install the yoga swing?
Answer: This could be a bit tricky if you haven't brainstormed about where you should set up the yoga hammock. It's extremely popular for some to hang it up on a tree branch and enjoy the mother nature as they fly around. This is truly an incredible feeling.
However, if you don't have enough space or a high enough tree in your lawn, you need to look for alternatives or get a portable one. Indoor aerial hammocks work well too if you can put it in a separate room in your house or even hang it to your door frame to swing around.
Q2: What is the principle difference between yoga and aerial yoga?
Answer: Everyone has this question in their mind, but very little people actually ask it out loud. Aerial yoga is the same thing as yoga, the difference is that it includes a hammock. The hammock allows the yogi to perform certain moves and positions mid-air, which also makes the yoga to be much more entertaining.
Aerial yoga is said to be more effective than yoga. In fact, it's a complete body workout. If you are looking for a way to get those nice flat abs and toned muscles, this is something you should definitely look after. It also helps in exercising the mind.
Q3: Are a trapeze and a hammock the same thing?
Answer: That's a great question! If you are a newbie, you would want to go through a more relaxing and refreshing aerial yoga rather than trick turning and performance focused aerial yoga.
A yoga hammock provides a stable, safe and secure experience that allows you to cradle a bit while you still get used to with the flow. The hammocks are also able to offer a great amount of flexibility and relaxation that you won't get out of your inversion swing.
On the other hand, a trapeze gives you more versatility if you are keen about trying out new yoga positions. This is more applicable for those who are taking aerial yoga too seriously and are open to exploring movements and positions that are not at all possible with a standard hammock.
Q4: Do a trapeze and a hammock have the same function?
Answer: Yes. Perhaps both the trapeze and a hammock will negate a lot of stress and pressure that you place on the vertebrae, which helps in alleviating back pain. Both of these solutions will effectively help you decompress your spine and thus allow your body to become more flexible.
Tips for Aerial Yoga
Dress right. Prevent your clothes from getting tangled and get in your way in the hammock.
Place the hammock in the middle of a room.
Eat at least one hour earlier than your scheduled class.
Relax into the poses.
Don't rush yourself. Moving too quickly or preventing yourself from moving properly can have adverse effects.
Once you are done, take deep breathes, lie down or sit to finally end your session.
Don't forget to enjoy your time while you are at it. The prop is there to make your experience enjoyable, so make the most out of it.
Final Words
Yoga is a very ground experience. Once you try it out yourself and feel the comfort of it, you will think that what had I missed all my life! If you are already a yogi, go ahead with aerial yoga. You will be amazed at how the hammock will enhance your connection to the earth and your breath in interesting ways.
If you have a hectic work life, yoga is something that we would highly recommend you to take in your schedule. Adding a hammock to the yoga session would provide you with greater balance. Once you start using the hammock to its full advantage, you will appreciate all the good things that it comes with.
For anyone's who has ever felt the weightless feeling of aerial yoga, we would enjoy you to get a swing for yourself. This is how you can practice the exercise at the ease of your home without even going to a yoga studio.
With that being said, let us know which one was your favorite yoga swing from the ones that we have mentioned in our list. Thank you for staying with us and taking the time to read the entire article. Also, we have a review article on Best Yoga Mats and Yoga Mat Bags,a read can be beneficial for you if you are planning to buy one. Happy Yoga!