What do they mean when they say that they have found the perfect yoga mat?
Is it the one that's soft? Alternatively, the one that's firm? Perhaps the one that's not too sticky neither too slippery? Oh, we completely forgot to mention that the perfect yoga mat shouldn't be too dense but must also provide enough padding under the knees. And it would be great if it's made from eco-friendly materials too. There has been a lot of rumors about how yoga mats are made from harmful materials that can cause skin problems.
Hmmm… that's one hell of a yoga mat.
Over the years, there has been much testing of the yoga mats and trust us when we say this, not all yoga mats will have all of the qualities mentioned above. Finding the perfect mat is challenging, and not all of them are for you.
If you are a newbie in the world of yoga, you need to know where exactly you should start and hence, this article is specifically designed to help you simplify your choices. The list includes some of the best yoga mats for your home or outdoor practice sessions.
List of Top 10 Best Yoga Mats
No products found.
Let's get started with our Best Yoga Mat
1.

No products found.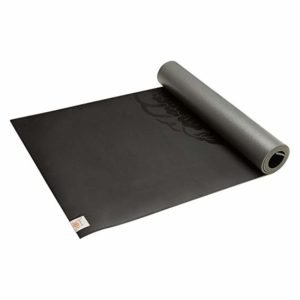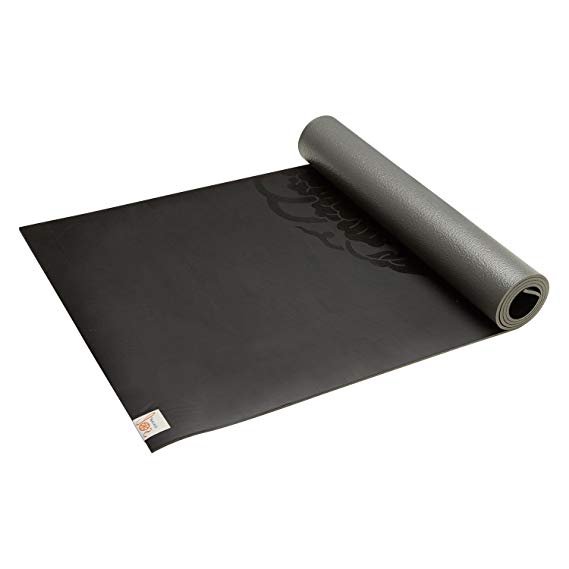 Our first pick in the list is the Gaiam Sol Studio Dry-grip Yoga Mat, which we believe is going to be a part of your life if you plan on practicing yoga on a daily basis. Gaiam's attention to detail and quality construction has led to step up to the next level of yoga.
The mat is 5 millimeters thick, which ensures optimal stability and slip-free technology. The PVC materials that it is constructed from seals out any foul odor, germs, bacteria and thus, makes it an ideal choice for those with latex sensitivities.
In tune with that, the 5-millimetre cushioning is so soft on the joints that it provides great comfort afterwards. You won't experience body aches or other kinds of physical pain. The mat also promises to wick away moisture to provide a better grip as the temperature rise with the overall yoga experience.
Even if you sweat, you don't need to worry about toweling yourself. Thanks to the topcoat science that wicks away any moisture.
It's surprising that even with such additional cushioning that the mat comes with, it's amazingly lightweight. Moreover, it is going to last you almost a lifetime; it's that durable.
If you have ever wanted to try in advanced postures, without any doubt, go ahead and move over all the place. Slide around the floor and make yourself feel comfortable as the mat stays put in every situation. Available in two lengths, 68-inch and 78-inch, this makes it even easier for you to decide which one is suitable for you.
Gaiam is a wonderfully basic, reliable mat. The dry-grip option makes this brand the best seller yoga mat in Amazon. Don't get tricked into thinking that the dry-grip will not opt for a nice, sticky gripping surface. It provides an excellent grip.
It is highly recommended!
Pros:
Durable
Comes with additional cushioning
Lightweight
Dry-grip technology yet sticks to the surface
Cons:
The mat may start having bubbles if not taken care appropriately
No products found.
2.

No products found.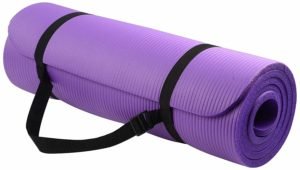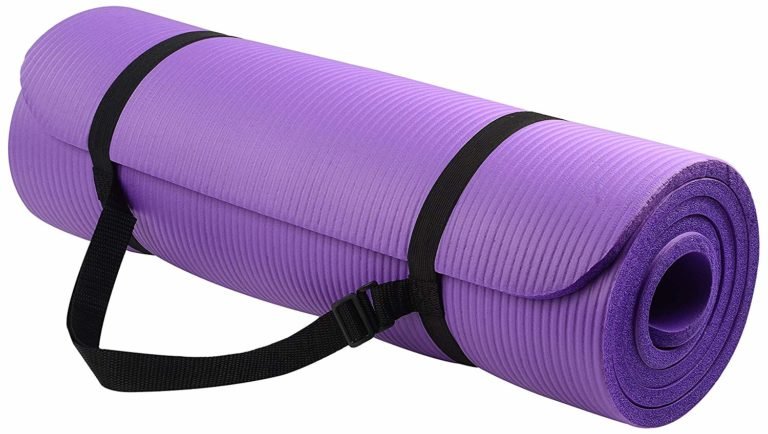 As the name suggests, it's an all-purpose yoga mat that works great for home yoga workouts and simple yoga moves. This is actually a pretty fantastic yoga mat given its inexpensive pricing.
71-inches long and 24-inches wide, the yoga mat ensures utmost comfort for everybody, despite their shape and size. With the high density of foamy material that it is made out of, the half-inch thick premium mat effortlessly cushions hips, spine, knees, ankles and elbows on hard surfaces.
This double-sided non-slip yoga mat comes with an outstanding slip-resistant technology that prevents injuries. Plus, don't worry if you accidentally spill water on the mat. It is entirely easy to clean.
Remember, it is made out of superior quality materials, and so the moisture resistant technology will not absorb any additional water. However, you can still wash it with soap and water, and it will be as good as new.
Not to forget about the strap that it comes with. So, now you can carry your yoga mat with you to your favorite park and meditate for as long as you want. Once done, wrap it up and store it for until the next time you go for yoga again.
The yoga mat has over 7,000 reviews from happy consumers, who praise it for its reasonable price and comfort ability. With a variety of 6 different colors, you have the freedom to choose your favorite color and take it to the gym with you or when you travel.
The Balance From all-purpose yoga mat ensures 100% satisfaction guaranteed with a 2 years warranty to the product. Customer satisfaction is at the highest priority.
Pros:
Lightweight and easy strapping makes it convenient to transport it around
Double sided with non-slip technology
Easy to clean
Extra thick
Cons:
Not suitable for regular yoga practice sessions
No products found.
3.

No products found.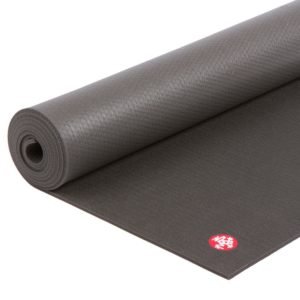 If you are looking for a resilient mat, Manduka Pro is your thing! It might not be suitable for hot yoga sessions, but it's ideal for home practice and non-heated flow. On top of that, the eco-certified PVC materials are free from toxins like phthalate that makes this mat a winner among all others.
This mat is ultra-dense with its comfort and cushioning, makes it the top choice for those who are planning their second buy. Specially designed for durability and performance, the Manduka Pro promises that it won't fade, peel or flake away for life.
It's just like your favorite pair of jeans. It's meant to be worn in and never to wear out. The grip will furthermore improve with use. Plus, it's constructed in such a way that sweat, bacteria and dirt will not absorb in the core of the mat, making cleaning a breeze!
The closed cell surface entirely prevents any sweat drips from seeping into the mat. Of course, it comes with high-density cushioning to support your joints. The materials altogether make it an ideal mat for yoga teachers or practitioners, who intend to practice yoga for over 6 – 7 hours a week.
Do take note of the fact that this yoga mat is not to be soaked, showered or submerged in water. If you are worried about how you can keep it clean, just wipe it down after every use with the Manduka All-purpose Mat Wash. That's because this solution is specially formulated to clean the mat without damaging the surface or causing any slippage.
Manufactured from non-toxic, emissions-free materials and being 100% latex free, it's an excellent choice for yoga enthusiasts.
Pros:
Heavy-duty solid yoga mat
High-density cushioning
100% latex free
Manufactured from non-toxic emission free materials
Cons:
Not suitable for those who practice for more extended hours
No products found.
4.

No products found.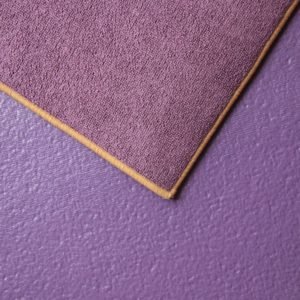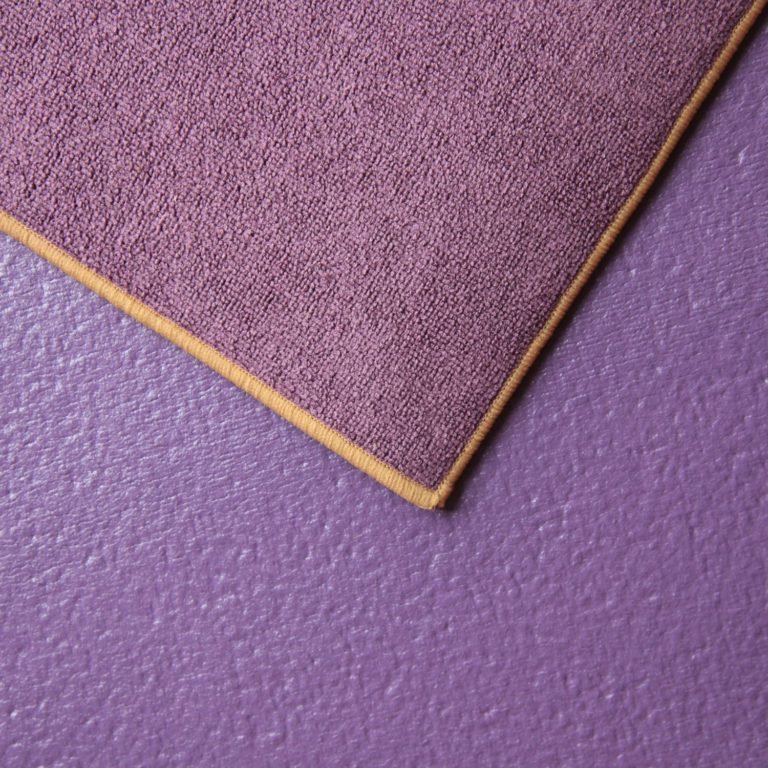 You know that you are going to sweat like a pig during your yoga classes, let that be a heated vinyasa flow or Bikram style. In that case, you will need something that is 100% slip resistant to the surface. Therefore, we present you the Aurorae 2 in 1 Yoga Mat.
What's so unique about this yoga mat is its mat-towel combination bonded with eco-friendly materials. Moreover, the mat promises not to slip in any circumstances while you are deep in practicing your moves.
This is certainly one of the most innovative products you will ever come across. That's because it stands for excellent quality and best personal service.
If you're the type of person who's keen about washing the yoga mat properly with detergent and water to keep it clean, then this one's for you. You can machine-wash this yoga mat separately with warm water and detergent or even use a coarse brush to get rid of the dirt and bacteria. However, do not put it in the dryer.
Now, this mat has something very different about it. The more you sweat, the gripper it will get, enabling you to focus on your long holds and inversion without any fear of slipping.
Speaking of the 2 in 1 feature, one side is for hot classes while the other side is for non-heated classes. This means that for intense, sweat sessions you can use the mat side. Also, for dry sessions, feel free to use the towel side. It's just a matter of one flip.
A good yoga mat should not interrupt the process of practicing asana and that it should support the alignment in that process. This Aurorae mat does precisely this. It perfectly fits the purpose.
Pros:
Easy to care
Durable
Two-sided for two purposes
Non-slip technology
Cons:
The mat might have a strong chemical odour after opening the package
No products found.
5.

No products found.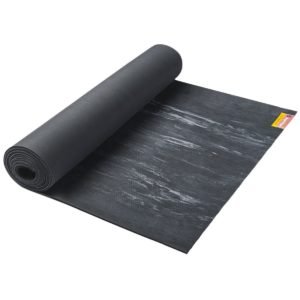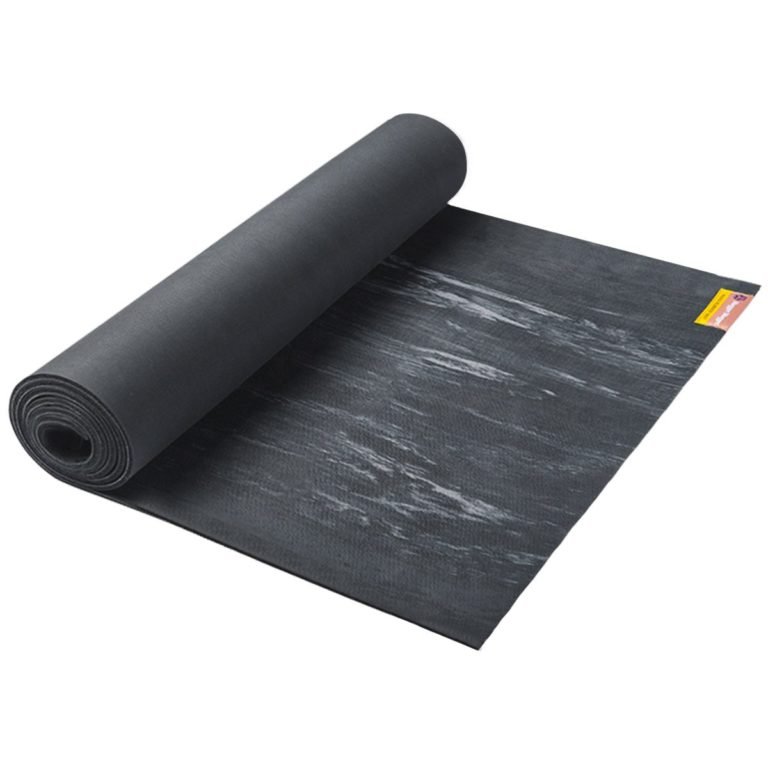 The rich black yoga mat is already a winner regarding its look. And speaking of its features, it's no less. This is particularly your mat if you are tall. As the title says, XL yoga mat, the mat comes with dimensions of 78-inches and 28-inches respectively.
The dimensions explain that you have ample space on the mat to spread across it. Not to worry about the quality of the yoga mat. It is made from natural, sustainable and renewable rubber, which by the way, happens to be the safest for your skin. The mat will also not curl up on the corners just as you're on the move.
The 6-millimetre thickness works as a good enough cushion for your body. It's optimal to protect your spine, knee and hips from the hardness of the floor. The sponginess is enough to keep your body parts safe from all evil.
The mat provides a different type of grip feeling on each side. Although both of the sides are equally awesome, you can experience enhanced grip and cushion on each of these sides.
With that being said, the Hugger Mugger yoga mat strikes to have the perfect balance between support, grip and shock absorption. The squishiness of the mat sinks your hands and feet when you press against it. All the credit goes to the natural rubber solid base.
Another one of the best things about this yoga mat apart from its size and materials is the durable. Since it is said to be produced from natural rubber, it guarantees to last you a lifetime. With the amount of money, you are about to spend on a yoga mat; this one is worth the investment.
So, what are you thinking about? This modest yoga mat is hands down one good product. You will love the versatile, high-performing mat for the years to come!
Pros:
Natural rubber
Superior slip grip on all sides
The mat will not curl up on the corners
Extra-large with ample space
Cons:
This product has not reported any negative feedback
No products found.
6.

No products found.
Not all great things need advertising and publicity, just this Sticky Yoga Mat from Yoga matters. This is perhaps the most commonly seen and used a yoga mat, specifically designed for beginners. This is going to take your yoga journey ahead and beyond!
You know you are looking for something budget-friendly when you cross paths with this yoga mat. It's easy to roll with a right amount of thickness, and the yoga mat is all you need to kickstart your yoga adventure.
You will surely love the textures, bumpy look, which makes up to a very comfortable mat during stretches and exercises. Although it does not come with a strap, the sticky material folds up to almost like a Velcro, so you don't need to worry about securing it with anything else.
Among all of the ones we mentioned in our list, this yoga mat provides the best non-slip value of all. That's also the reason why you would see this mat in every yoga studio and gym that you go to. This standard sized yoga mat comes with plenty of space and grip for optimum practice.
There's no doubt on its excellent grip and slip-free technology that it comes with. It's cushioned enough to safeguard your knees, backs and hip from hard surfaces underneath the mat. Moreover, it also has a tremendous and steady balance, the credit for which again goes back to the excellent grip of the mat.
Made available in a wide variety of colors, you can now match your other accessories with the Yoga matters Sticky Yoga Mat. And if you feel that it has become dirty, throw it in the machine for a thorough wash until it becomes clean to be used again.
Pros:
Machine washable
Cushioned enough to protect your body
Excellent grip
Provides great balance and stability
Cons:
A bit heavier than other brands of yoga mats
No products found.
7.

No products found.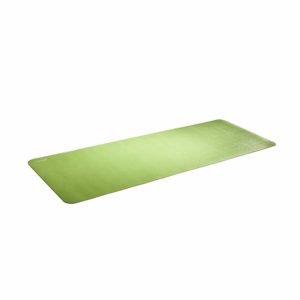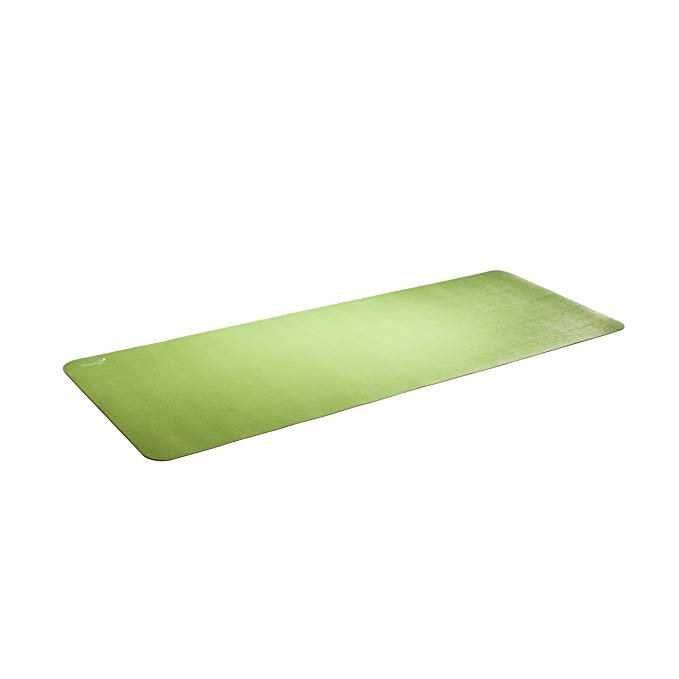 A heavy-duty, large yoga mat makes an ideal yoga partner at home, and it might not be something ideal to travel around with. That's why we have the Airex Calyana Prime mat. There's something about this yoga mat that makes it stand out. After an obvious observation, here's what we found:
This mat may not have hundreds of reviews on Amazon, but we found this to be a very friendly yoga practice mat. That's because of its perfect cushioning, which supports comfortable joints. It's sticky enough that it won't slide anywhere around while you are in your position.
The sophisticated textured along with its optimal grip is just an out of the world combination for a yoga mat. And of course, it's washable, which makes it easy to clean.
With reference to its texture and materials, we would also want to draw attention to its elegant look. Just like other yoga mats having angular, sharp edges, this mat has rounded edges. This makes it look so much nicer than all the other mainstream ones. And of course, the color… it's such a naïve green with the other side having a composite brown colour.
Durable and long-lasting, it provides a subtle amount of cushioning to the mat. It also ensures not to curl up at the edges while it's on use. The flat surface aims for a firm grip; not too sticky, neither slippery.
Most importantly, the yoga mat is handy, which makes it a perfectly portable accessory for your gym. It can also be used flexibly – whether at home, in the yoga studio or outdoors, any surface is good enough to support your body.
Pros:
Perfect cushioning
Elegant looking
Made from sustainable materials
The mat will last you a lifetime; highly durable
Cons:
A bit heavier than others
No products found.
8.

No products found.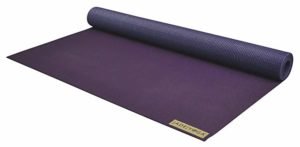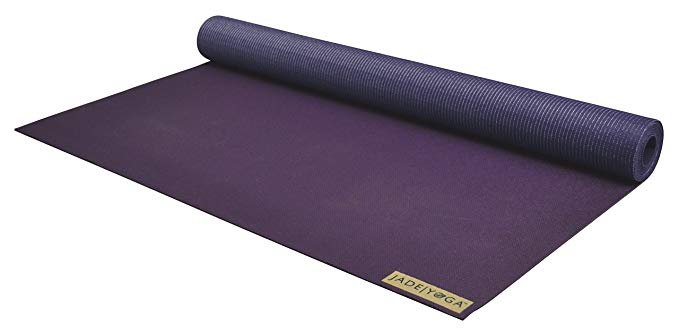 All this while we have been talking about how well the yoga mats roll up tight to be taken everywhere or be stored anywhere. However, here comes Jade Voyager Yoga Mat that understands how odd it looks when the rolled-up mat peeps out of your bag in the subway.
Hence, this is something that you can easily fold up like a piece of cloth for painless transportation. The Voyager, as the name says it all, is targeted towards travellers and those who love taking their yoga mat along with them to places.
With no artificial synthetic rubber, EVA or PVC, the Jade Voyager is entirely made out of natural rubber. And any natural materials are always lovely. It has the incredible grip and exceptional comfort that you are looking for in your yoga mat.
In tune with that, don't look for cushioning in the Jade Voyager. It's not your typical yoga mat. It's like a piece of cloth that you can take anywhere for a quick exercise. If you are searching for something comfortable, this might not be the ideal choice.
However, it has been reported that a customer of Jade came back after 8 years and reviewed that her Jade Voyager is still running strong. She's such an avid yogi, who has used the mat regularly without much breaks between her sessions and yet the mat is still serving her just the way it used to 8 years back.
You see, this durable yoga mat becomes your loyal yoga companion once you start using it.
FACT: Jade plants one tree for every mat that gets sold – with more than 1,000,000 trees planted as of today.
So, here's one more reason for you to choose Jade Voyager over any others.
Pros:
Easy to fold for transportation
Natural materials grip better than other brands
Ideal for travelers
Lightest and thinnest yoga mat you will ever come across
Cons:
Not very foamy, which might be uncomfortable for some of you
No products found.
9.

No products found.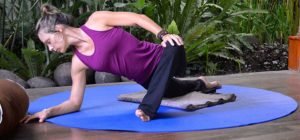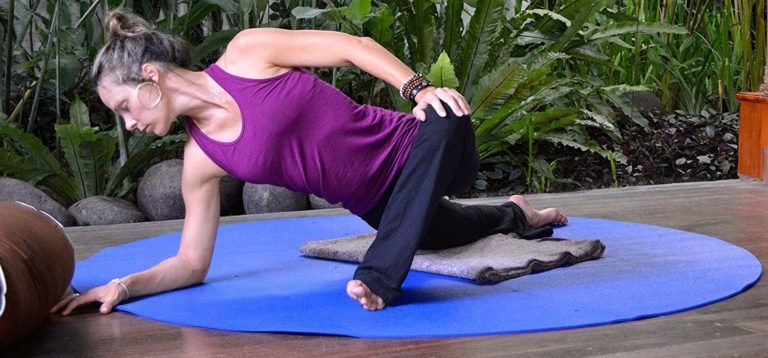 Innovation has no limit. This round yoga mat is one such example of innovation. You must be wondering what's the point of having such a yoga mat. Well, have you ever thought of how awesome it would be to stretch out around yourself and feel like there's no end?
Exactly, circles usually have no end and that your stretching shouldn't either.
Yoga mats do not always have to be rectangular. Large circles can do the trick too. Instead of confining yourself to a narrow space, it would be awesome to enhance your performance in circles.
So, experience this freedom of fitness on another new level with a 6-foot diameter round yoga mat with this one from Mandala. It almost has the same properties and materials just like a rectangular one; the only difference is that it's in a circular shape.
The Mandala Yoga Mat comes with a ¼-inch thick cushion that provides an extreme level of comfort. The mat allows you go with the flow in various types of position while you watch your yoga video from your favorite artist. Unlike a rectangular mat, you won't end up having your feet or your hands on the floor.
Although it might not be suitable for you to roll it up and take it to the studio, it's certainly good enough for your home use. And it's so very comfy! You will be delighted if you make this purchase.
Absolutely no doubt on the stickiness and the non-slip resilient materials. In fact, the Mandala Yoga Mat has a high tack surface with better stickiness than most rectangular yoga mats. So, it's never a waste!
Pros:
Excellent stickiness with the high tack surface
Superior quality
Your hands and legs will not go out of the mat, touching the cold floor
An optimum thickness and cushioning
Cons:
The mat cannot be rolled up or folded for transportation
No products found.
10.

No products found.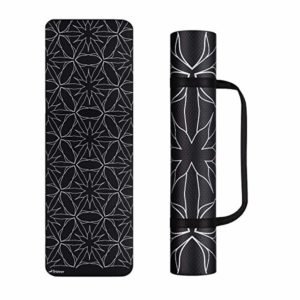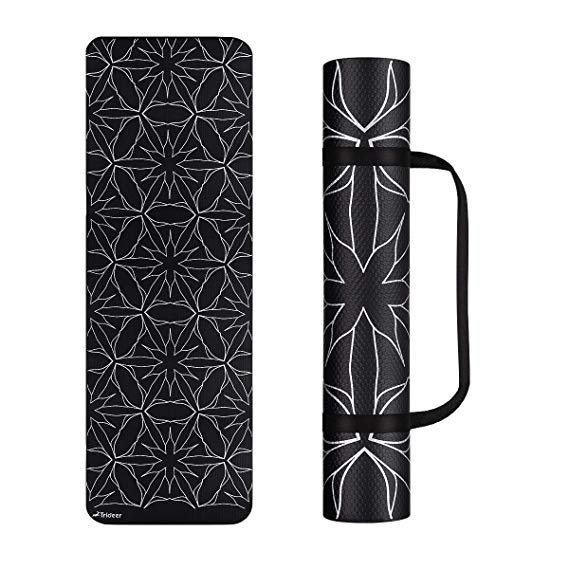 Last but not least, we have the Trideer Yoga Mat with its beautiful and peaceful Indian-style pattern that is such an eye candy! Not sure if it's a superstitious belief, but spreading out this yoga mat automatically puts you to a yogi mood.
In fact, the design makes it so versatile that it could be a great addition to your home.
Now, this yoga mat comes in optional sizes for different levels. It could be an ideal yoga mat for you if you are a beginner. The 6-millimetre mat provides sufficient cushioning to support your elbows, knees, joint and back. However, for an advanced level yogi, it is highly recommended that you go with the 4-millimetre mat which is more stable.
This yoga mat also comes with a free strap with which you could easily take it wherever you want. Stand out of the crowd for a blissful outdoor yoga. And if it gets a little dirty from outdoor usage, fret not! You can clean it off with diluted white vinegar or soapy water and then pat it dry with a towel.
Please do take note of the fact that it is not meant to be brushed with strong detergents. It will affect the durability of the mat.
The Trideer Yoga Mat has a non-slip and anti-tear feature. To break it down into smaller parts, the super grip texture supports a non-slip performance and allows you to keep a balance during your exercise. Additionally, the high-dense anti-tear material plays a role in keeping the mat as sturdy as possible even during strong pulls.
If you are looking for a gift for your yogi friend, there's nothing better than this. Plus, it has a 30-days return policy; so, by any chance, if they don't like it, there are chances for a hassle-free return.
Pros:
Long-lasting durability
Easy to clean
Easy to transport it around
High standard materials with an attractive design
Cons:
It may have a lasting smell of the chemicals once it is unrolled from intact packing
No products found.
Why Would You Need a Yoga Mat?
Many of you might think that you can just spread a piece of cloth and begin your yoga journey. But that's not it. Your yoga mat is like your silent companion. It's extremely important for you to buy a yoga mat; the one you can actually rely on. There are millions of reasons as to why yoga mats are a necessity, but we have listed some of them below:
Your Body: Yoga requires you to do a lot of cross-legged positions, some of which puts a lot of pressure on your back as well as your muscles. In that case, you cannot rely on a piece of cloth that does not provide sufficient support to your muscles, back, hips, knees and thus your entire body. Yoga mats, with its padding and cushioning, provides that support. It even prevents accidents and injuries from happening. Thicker yoga mats make sure that your hips and knees are not digging into the floor and causing pain. This is precisely why you need a yoga mat.
Your Hygiene: Moving on, you do realize that you will sweat a lot during your yoga sessions. The yoga mats come with closed cell surface that does not let the sweat absorb in and allow germs and bacteria to grow. A piece of cloths or any other thing that you plan on using, on the other hand, does what we fear the most. So, a clean and healthy mat is essential when exercising.
Practice: You need to ensure that your feet, hand or you, yourself don't slip or slide while you are at one of those on hold positions. Yoga mats come with a non-slip resistant technology, the aim of which is to provide stability and control over your body without any worry.
Conscience: It's better to be safe than sorry. If you are a newbie, chances are you might have a fall out if you aren't careful about postures. Even the most expensive yoga mat is still cheaper than doctor bills or clutch sticks and other orthopedic accessories. Think of the yoga mat as an investment and you will definitely get fruitful results from it. For some of them, yoga mats are a source of motivation to get started with exercises.
Yoga Mats Buying Guide
Yoga mats have changed over the years. Fifteen years ago, it was that sturdy, spongy piece of rubber that is soft and sticky to the ground. With time, yoga mats have changed completely. Here's a guide to how you can select the best yoga mat for yourself:
We cannot emphasize enough on how vital thickness is in the case of yoga mats. The thickness has everything to do with comfort. If you get a mat that's too thin, the chances are that your knee or hips might get banged during a crescent lunge.
The thickest possible yoga mat is about ¼-inch. However, travel mats are thinner; merely 1/6-inch, which doesn't weigh much so that you can easily cinch to fit in your luggage. Considering how important it is for you to transport it around and how much space you have to store it, we'd always recommend you to go for a thicker one.
Anyway, this is something you must look out for when purchasing your yoga mat.
Long back, yoga mats probably came in only one material, which is rubber and sponge. However, in today's world, there are an ample of other things you need to consider; the texture, stickiness, sponginess and eco-friendliness and how the mat wears over time.
Most yoga mats are made from natural rubber, PVC, organic cotton and other eco-friendly materials.
Do take note of the fact whether you are allergic to latex or your skin is prone to infections and allergies. Avoid natural rubber yoga mats. Other than that, spongy materials come with a lot of blended materials like PVC, jute and cotton and so on.
Would you like a mat that would stick to the surface or a mat that will move and slide as you exercise? Apparently, nobody wants the second one, and that's when the role of texture comes in. The textures decide how much traction your yoga mat is going to provide you. Texture also decide the overall comfort of the mat.
Imagine having a bumpy textured yoga mat, dictated by materials like jute and other organic roughness. Trust us when we say this but a rough texture will not make you feel very comfortable while exercising.
If smoothness is what draws your attention, then a PVC yoga mat is your way to go! Other eco-friendly materials will surprise you with their traction, even though those materials don't have much of a sticky feeling.
Who likes something that would move as they exercise? That's why getting a sticky yoga mat is a better idea. It will help you maintain your alignment while you move from one position to another and hold onto that position for minutes. PVC yoga mats are said to have the highest sticky factor.
Also, do take note that yoga mats are only sticky when they are clean. Therefore, make sure that you take proper care of your yoga mat and wash it whenever it's necessary. Only then, you can make the most out of your yoga mat.
Nowadays, we always keep looking for eco-friendly and hybrid products. So, why should we sacrifice in case of a yoga mat when clearly, they come in natural, recycled materials like jute and organic cotton.
In some cases, we would highly disregard you to get a yoga mat made of PVC. Although it's sticky, it does not break down in landfills and is somewhat difficult to recycle as well. An eco-friendly yoga mat has the same comfort, texture and portability like any other mat, so it's always better to choose something and contribute to the environment.
If you are in a budget, this is something you will surely need to consider. Designs, patterns and brands are always expensive than other ordinary mats. However, considering the yoga mat as a lifetime investment, you should choose something that is of standard quality with everything that meets your needs.
Taking note of all the factors mentioned above, you must have already narrowed down your choice. However, some of you can still not give up on the style. So, feel free to choose your favourite print or colour. After all, you will have to see it when you are going to be in the downward dog position.
Frequently Asked Questions about Yoga Mats!
Does the use of yoga mats cause skin allergies?
Answer: That's why we always recommend everyone to purchase the natural rubber yoga mats, just like natural and organic products can never cause any harm. Similarly, yoga mats made from natural rubber and organic cotton should always be the preference.
PVC, Polyurethane, rubber, latex and other chemically processed products might sometimes be toxic to your skin. These are also what may be poisoning your body.
Can I use my yoga mat as a sleeping mat too?
Answer: That's an important question. Many people who buy a multi-purpose yoga mat think that it can be used as a sleeping mat too. We wouldn't say that it cannot be used as a sleeping mat, but here's the thing: yoga mats are not that thick, or you might just as well say "less cushiony". But for sleeping, you would always prefer something that's a bit comfier. It's not like you can't use yoga mats as your sleeping mat, but it's not recommended. And for some of you, lying down on a thin piece of a mat for long could cause body aches.
How long does yoga mats last?
Answer: For a budgeted yoga mat, the durability is not promised. Even the most trusted, branded yoga mat will not last forever. However, with proper care and carefulness, it will surely last you a long time.
5 Tips on How You Can Do Yoga at Home
Create your own comfortable yoga spot at home. Be creative and make the best space you can to enjoy your yoga session.
If you're are serious about practicing yoga, make sure to get all of those accessories you need. Otherwise, you'll always find yourself concluding to an excuse that you don't have the accessory to perform that position.
Relax with Savasana. Your nervous system needs some benefits too, and it's not only about your muscles all the time.
Make a practice to exercise yoga regularly. Three times a week sounds good and so does every day. Whichever works for you, don't hesitate!
Get yourself a yoga mat, and everything else will come from within.
Now that you have come till the end, it means that you are indeed thinking of incorporating yoga in your daily life. Yoga is life-changing. A little stretch could lift up your mood and treat you to do so much better. And that's why you should start now!
Choosing the right yoga mat could be tricky. You have so many things to look after; texture, eco-friendliness, material, thickness and so on. We hope that our article today has helped you find what you are looking for. We have tried to include everything, from rectangular mats to circular mats to thick and thin mats. Whatever the market has, we have it all too.
With that being said, it's a wrap! Thank you for your time to read the article. We hope it was helpful with all the information that we have included. If you are looking for bags for your yoga mat, you can read our review on best yoga mat bags , which will sure  provide you some necessary information. Now, before you leave, don't forget to drop us your feedback or any questions that you may have. Cheers!